A unique, intensive course where you will learn the essential foundations of Yoga Therapy from international teachers, according to the system of the renowned SVYASA Institute in Karnataka (South India). This famous Yoga Therapy institute has been conducting yoga and yoga therapy studies for 25 years. Thanks to it's structure, the course is suitable for students from all over the country and international students.
We are happy to have international top-teachers teaching this training. To make this possible the format of the Yoga Therapy training includes monthly modules of 2-3 days on different week days. The training will partly take place Online via zoom and partly in person.
Start October 2022
Start: 15 October 2022
Duration: 1 year
ONLINE with some modules in person
Times:
ONLINE from India: 07.00-14.30
IN-PERSON at Yoga Vidya: 09.00-16.30
INTENSIVE WEEK: Whole day program 07.00-22.00 with breaks
Modules:
25 training days ONLINE and partly IN-PERSON at Yoga Vidya Rotterdam & 1 intensive week in Bad Meinberg (Germany)
Dates 2022
15 & 16 October (Sa & Su) – ONLINE
18 & 19 November (Fri & Sa) – IN-PERSON
16, 17 & 18 December (Fri-Su) – ONLINE
Teachings will take place online and partly in-person. If you are not able to attend in-person, online attendance is also possible. Nevertheless in-person attendance with 3 modules and the intensive week is preferred, as special cleansing techniques will be taught.

Dates 2023
28 & 29 January (Sa & Su) – ONLINE
25 & 26 February (Sa & Su) – ONLINE
25 & 26 March (Sa & Su) – ONLINE
22 & 23 April (Sa & Su) – IN-PERSON
20 & 21 May (Sa & Su) – ONLINE
24 & 25 June (Sa & Su) – IN-PERSON
15 & 16 July (Sa & Su) – ONLINE
20-27 August (Su-Su) – IN-PERSON Bad Meinberg Germany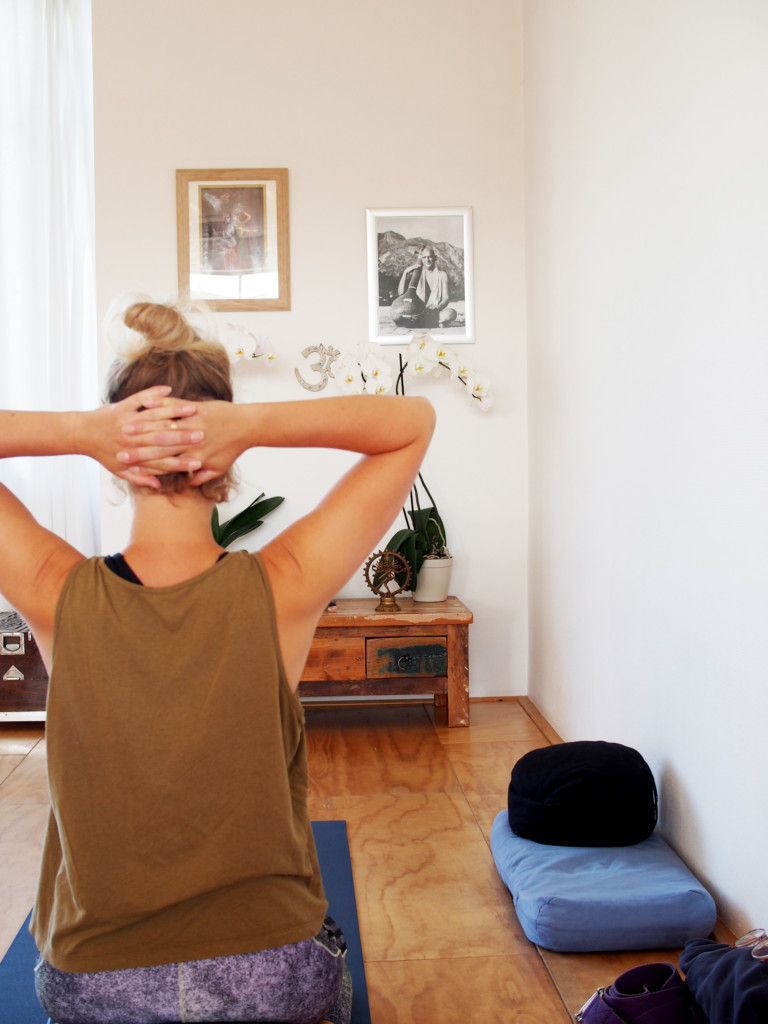 Yoga can be used to stay healthy, happy and balanced. When the balance shifts, yoga also has a proven therapeutic effect. Research shows that yoga can play an important role in the treatment of various diseases related to trauma, stress and addiction. If you are a Yoga Teacher and if you would like to help people with ailments competently and purposefully, in private or group sessions, then this training is for you!
You will learn the basic concept of Yoga Therapy with the following main content:
Model of the Panchakosha Tattwa, the 5 sheaths from the Taitariya Upanishad
Aadhi – Stress and its management
Aadhija vyadhi (psychosomatic complaints)
Vedic Psychology (structure of the mind & the relationship between mind and body)
The application of yoga therapy as described in the Yoga Vashishita, a classic scripture of yoga.
Pathology from the Yogic point of view
Therapy techniques: Yoga-physiotherapy, respiratory movements, Asanas, Pranayamas, Shat kriyas, cyclical relaxation, the technique of directing Prana (Energy), counseling, meditation techniques etc.
Exercises and techniques of Yoga Therapy that can successfully be used for: psychosomatic complaints, asthma, allergies, back pain, knee pain, headache, migraine, arthritis, anxiety, depression, muscular dystrophy
You will learn to perform a consultation purposefully and which exercises you should use for specific cases. You will learn how to teach the exercise to the participant/patient and how to give her/him valuable advice on prevention as well as dealing with the disease and tips for improvement of the condition.
The aim is to enable the patient to practice these exercises regularly at home. Thereafter, once the ailment is under control, the patient can again practice regular yoga to improve the quality of life and maintain good health.
---
Topics and structure of the training

During the 1 year of the Yoga Therapy Training all topics will be first studied in theory, then practiced and taught practically, then transmitted to others in a setting of a consultation. The following structure will be approximately followed.
Basics of yoga philosophy, Indian scriptures and Philosophy systems. Basics of teaching Yoga Therapy.
Practical learning and teaching of diverse techniques for different problems and diseases. The intensive Yoga Therapy Training includes an in-depth studying and understanding of the following techniques: respiratory motion, specific Yoga Therapy techniques, Asanas, Pranayamas, Kriyas (yogic purification techniques), Cyclic relaxation, PCT = Prana Channelizing technique, Prana directing techniques, various meditation techniques and much more.
You will practice what you have learned by practicing consultations, diagnosing and coaching on each other, practicing treatments in couples or small groups.
The lessons are based on the traditional Indian Gurukula system and the traditional Vedic scriptures with a focus on transmitting the holistic yoga wisdom.

The training concludes with a written exam, a festive graduation evening, a solemn handover of the certificate and the granting of the spiritual blessing.
After passing the exam and completing the attendance, you will receive the "Yoga Therapist / BYAT" certificate from the German Yoga and Ayurveda Therapist Association (BYAT). The certification consists of 305 units (45 min.) or 228 hours.
So far there is no Dutch standarts for Yoga Therapy Training programs. The Dutch association has just been founded but is not yet active.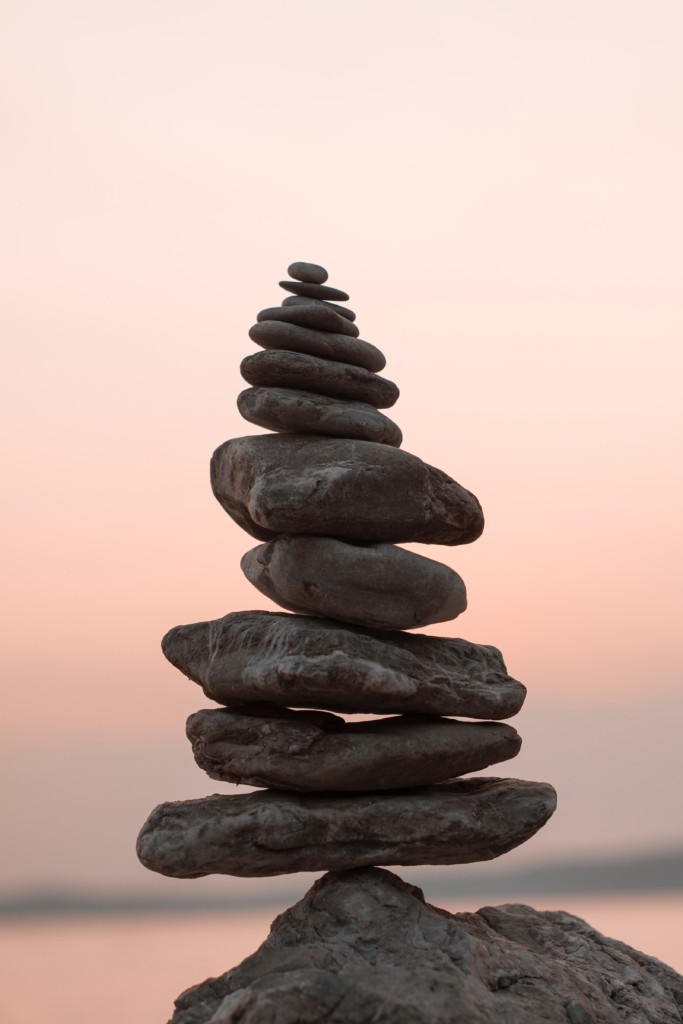 We offer 4 different prices depending on the choice of accommodation during the intensive week in Germany. The dormitory counts 6-12 beds. The single room has its own bathroom. You may pay the total amount or in 12 monthly instalments. The spread monthly payment will be deducted partly by Yoga Vidya Germany & Yoga Vidya Rotterdam.
Option 1:
Payment in of the total amount before 1st of September 2021
€ 2.364 | dormitory or tent
€ 2.460 | 4-bedroom
€ 2.580 | 2-bedroom
€ 2.700 | single room
Option 2:
Payment in 12 instalments starting 1st of September 2021
€ 197 | dormitory or tent
€ 205 | 4-bedroom
€ 215 | 2-bedroom
€ 225 | single room
Note: €5 Administration costs will be added to each month, when choosing payment in 12 instalments.
The fee includes:
All Yoga Therapy Training course lessons
Extensive Yoga Therapy Training Manual
Accommodation and organic, vegetarian/vegan meals during the intensive week in Germany
Practical and theoretical exam
Certificate when completed the training
*The course fees are tax deductible in the Netherlands. You can declare the full study costs including the extra costs of books at the the tax authority. For more information on the requirements contact the Belastingdienst or Tax authority of your country.
Additional costs:
Travel expenses to Germany, Bad Meinberg, approximately €50,-
Accommodation in Rotterdam is NOT included in the training fee. We can assist you in finding an affordable place.
Registration fee
€75 | Early Bird before 15th of July 2021
€175 | before 15th of August 2021
Including a personal intake conversation with Yoga Vidya Rotterdam & Harilal & Meera Karanath via phone/ zoom.
Conditions & Requirements
Certified Yoga Teachers with a Yoga Teacher Training of a minimum of 200 hours may apply for this Yoga Therapy Training.
A long lasting personal Yoga practice is required.
Yoga teaching experience is required.
Kriyas are practiced – therefore, this training is not suitable for people with serious ailments nor for pregnant women.
Reg­u­lar par­tic­i­pa­tion in the train­ing lessons and the desire to develop your­self are assumed.
During the training modules and the intensive week, you have to abstain from using drugs, alcohol, tobacco, meat and fish. Also during the rest of the training we advise you to keep up a pure Yogic lifestyle.
The training will be given entirely in English and the literature is in English too. It is therefore necessary that you are familiar with the English language.
Prerequisite for admission to the exam is a full attendance of the 25 training days and the intensive week.
If you have a serious ailment and you are not sure if the training is right for you, please contact us on contact@yoga-vidya.nl. You may also contact Harilal directly on arhsayoga.hari@gmail.com in case you have doubts if the training is suitable for you.
Find more information on the Yoga Therapy Training in the study guide:
Study Guide Yoga Therapy Training
Please download our full terms and conditions. The document also contains information on costs and payments as well as our Privacy policy:
Complaints regulation

Dissatisfaction can always occur and should first be discussed with those directly involved. If there is a complaint, we would like to come out stronger together. Find the entire procedure in our complaints regulation:
Learn from International Teachers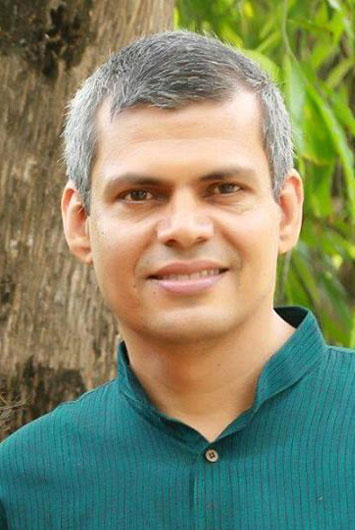 Harilal Karanath – main teacher
Harilalji is director of Arsha Yoga in Gurukulam / Kerala, India with the goal of teaching traditional Indian knowledge and social work. He comes from a traditional family from Kerala, India. As the youngest of six children, he was born in traditional Indian surroundings and grew up with Ayurveda, Vedanta and Yoga. His parents were teachers, followers of Gandhi; they followed the teachings of Ahimsa (not hurting) and Satya (truthfulness). 16 years ago, he started practicing yoga and therefore lives strictly vegetarian, is non-smoker and does not drink alcohol. He studied economics at a university in Thrissur for five years before starting work in advertising and marketing in India, Saudi Arabia and the United Arab Emirates. In 2000, he gave up this work to devote himself entirely to yoga as his way of life. He then completed his yoga teacher training and continuing education as a yoga teacher at the Sivananda Ashram in Neyyar Dam, Kerala, and was awarded the title Yoga Acharya. He then lived and taught yoga for one and a half years at Sivananda Ashram in both Kerala and the Himalayas. In his work, he quickly recognizes the weak and strong areas in the physiology of his students and gives them individually different asanas or variations. He says, "Samatwam Yoga Uchhayate": Preserve equanimity in the mind in all life situations. That's yoga.
He became curious about Western culture, as it was the background of most of his students in India, and first came to the West in the spring of 2002, where he led some yoga workshops in southern Germany and since then has visited Europe every summer. The encounter with German culture in everyday life gave him an understanding of the Western in comparison to the Indian culture, which is reflected in his lessons with Western students.
Acharya Harilalji has completed a full-time graduate degree in yoga therapy with honors (Yoga Therapy at Prasanthi Kutir in Bangalore). The topic of the diploma thesis was "Integrated Yogatherapy for Asthma, Hay Fever, Arthritis, Back Pain, Diabetes, Gastrointestinal Disorders, Hypertension, Anxiety & Depression and Obesity".
He is currently the director of Arsha Yoga Gurukulam, an ashram in Kerala, southern India, and a tutor at the Nagelil Ayurveda Medical College, Idukki District, Kerala. His teaching method is based on the traditional Indian Gurukula system. Therefore, he focuses more on experiencing the wisdom of yoga than on pure knowledge transfer.
Marie Meera Karanath – main teacher
Marie Meera Karanath was born in the Czech Republic. During her studies as a translator at the University of Mainz, she completed her yoga teacher training at Yoga Vidya Speyer in 2006.Later she devoted herself to the yoga therapy study.
In 2009 she went to India with her husband Harilalji, where they founded the yoga center Arsha Yoga. She lives mostly in India and travels to Europe every summer. She has a daughter, Gayatri.
In her lessons, Meera places much more emphasis on intensity in the experience than intensity in the effort. Her goal is to teach yoga in its many aspects so that each person can find their starting point and grow independently from there. Her main inspirations are encounters with wise people from Swamis through her grandmother to the "ego-sinker" – her daughter.
Linda Chitrani Hartenberg – anatomy teacher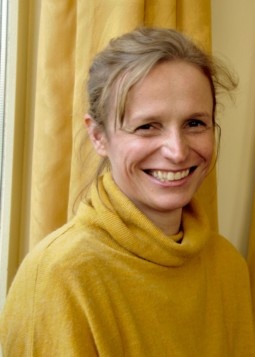 Linda Chitrani Hartenberg has been working as a radiology laboratory technician from the age of 18. She has been looking at the inside of the human body for many years and her excitement for the functionality of the human body started there.
At some point curiosity has come to her about the other, less visible side of the human body, as the energetic and mental body. She discovered the power of movement as an aid to change the mental state of people during teaching Pilates. Later she followed a Yin Yoga teacher training and the 500h Yoga Vidya Teacher Training and began to teach yoga classes. She discovered that much more positive effect on body and mind was achievable by performing Yoga asanas (yoga postures) with conscious breathing and concentration. She believes that Yoga is super healthy and works perfect as preventive medical care & stress management.
Her teachings are lively & inspiring. She loves to make complex anatomy understandable and fun for everyone!

Additional information
Please contact us at contact@yoga-vidya.nl or call 06 34 860 459 for more information or to discuss your personal situation. You are also welcome to visit our yoga studio for classes at any time.
Sign up
Please sign up before 15th of July for the Early bird registration.
Registration closes around 15th of August or when fully booked.
Please click the sign up button below and you will be guided through the registration procedure.
Registration Yoga Therapy Training