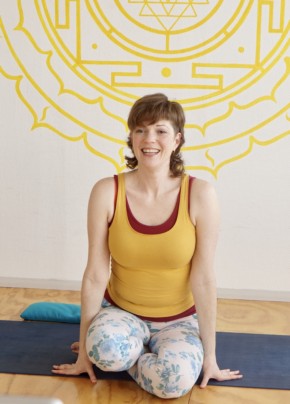 'Yoga is homecoming, an inward journey welcoming us back to the truth of who we really are.'
I am a YogaWorks (Los Angeles) and Sivananda (India) trained yoga teacher, specialising in slow flow vinyasa, classical hatha, restorative yoga practices and sound bath.
I believe that the strength, flexibility and focus developed in yoga practice opens us up to even more profound physical, mental, and emotional transformations, eventually leading us back to the truth of our divine, joyful, infinite Selves.
I started studying yoga in 1999, and began teaching yoga full-time in London, England  in 2013. In 2014, I opened Leyton Yoga , a still-thriving boutique studio for authentic practices in East London. In 2018, I moved to the Netherlands and am so happy to find a home for my teaching and practice at Yoga Vidya.
I am profoundly grateful for the continued guidance of my teachers: Judith Lasater, Swami Govindananda, Norman Blair, Donna Farhi and Diane Bruni.
'Whatever your goals or needs, it would be an honour to practice yoga with you'.
Namasté! _/\_