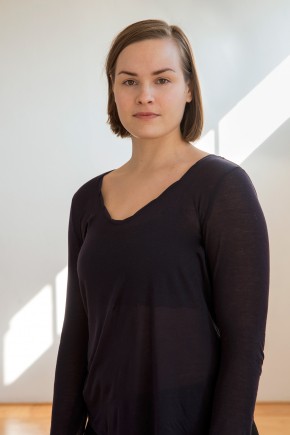 I see teaching as part of my personal practice. I am endlessly thankful for being part of beautiful global Ashtanga yoga community.
Movement is important to me since I was a child. It is my preferred way of expressing myself and learning. I started dancing as a child in my native country Slovenia. I did it all from ballet to flamenco and I found myself most in contemporary dance.
In 2009 I moved to Netherlands where I studied in Rotterdam Dance Academy from where I graduated in 2013. Being on my own, meeting people with different backgrounds and people with new ideas is what felt like home to me. I got familiar with yoga asana practice when I was about 15 years old. It took me about another 5 years to develop regular practice but the connection was already made. Robert Boustany is who I consider to be my first yoga teacher and a great inspiration. I studied with him in Breda (NL) and received his certificate to teach Hatha yoga in 2013.
It was around that time that I took my first Mysore practice. It was at Yoga Maya studio (former name of Yoga Vidya) with Maya Ira Bisschop, who became my teacher after that. I came every other morning from than on. I had found my practice. Last three years I spend in Chile. I was lucky to become a student of Loreto Cortes. She has one of the oldest schools dedicated to Ashtanga yoga in tradition of Pattabhi Jois in Latin America (Ashtanga yoga Chile). Loreto initiated me in teaching. I was teaching Mysore classes and guided Ashtanga yoga classes in her school in past two years. I was also a guest teacher in Ashtanga yoga Valdivia in south of Chile. In 2016 I started giving regular Ashtanga yoga workshops in Slovenia under the project Asja Yoga. You can find me on Instagram.
I kindly invite you to practice under my guidance!
Namasté! _/\_